DRIVER 620 DeltaDore
Two-zone attenuation regulation device utilising a pilot wire.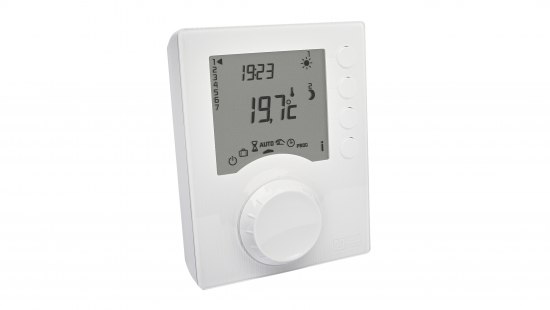 DRIVER 620 DeltaDore
DRIVER 620 DeltaDore
This attenuation regulation device is designed for appliances with a pilot wire (direct heating convection heaters) or for analogue thermostats with an attenuation function.  With the help of a pilot wire, it sends the signal for switching between comfort and attenuation temperatures. The comfort temperature is the value set on the heater (analogue thermostat); the attenuation temperature is approximately 3.5°C lower (the value of the temperature drop is fixed on the heater/thermostat by the manufacturer; it can range from approx. 3.5°C to 5°C). DRIVER 620 enables the division of a building into two zones, and the setting of an individual 7 day or 24 hour programme for each of them. 
DRIVER 620 DeltaDore
| | |
| --- | --- |
| Rating: | IP 30 |
| Power supply: | 230 V / 50 Hz |
| Insulation class: | II. |
| Switched current for each zone: | 0.1 A |
| Heating indicator light: | On display |
| Programme back-up: | 2 hours |
| Placement: | KU 68 |
Similar products

BMR HJ 103RX

BMR HJ 306RX

ECOFLEX TAC