Supplementary products
The special F-BOARD floor insulation offered by FENIX can significantly reduce the time which is needed for electric floor heating to warm up a floor to a comfortable temperature. Other products are STARLON insulation for the installation of ECOFILM heating foil under floating floors and special HEAT-PAK underlays which enable the installation of ECOFILM foils under a carpet or PVC.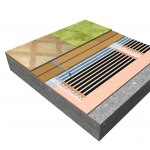 The HEAT-PAK mat is intended to be used in combination with ECOFILM heating foil for installation under a carpet or PVC – usually in places where it isn´t possible to place the heating cable into screed (e.g. installation onto an already-completed floor, or as part of reconstruction work).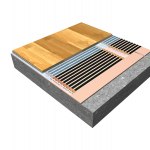 Insulation on the basis of extruded polystyrene is one of the standard and most widely used leveling underlays employed under floating floors.