Radiant heating panels ECOSUN
ECOSUN ceiling panels utilise the principle of radiant heating (so-called infrared heating). The unique surface finish and uniform distribution of temperatures across the surface of the panel ensure the output of a maximum share of heat energy in the form of radiation, while reducing the convection element to a minimum.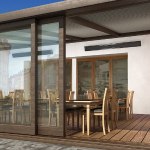 ECOSUN Terrace Heaters are designed for the zonal heating of winter gardens, enclosed and roofed balconies and terraces, garden tents, churches, etc. - i.e., applications where they are protected against direct contact with the effects of the weather.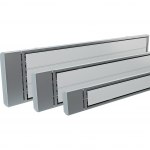 These are ECOSUN S+ panels fitted with a special two-layer coating of powdered plastic intended for outdoor environments and with high resistance to corrosion. The panels are intended for environments where there is a danger of corrosion (air with a higher content of humidity, salts, etc.).