PFP – heating cable with a thermostat
An automatic heating cable with a thermostat; suitable for do-it-yourself installation. An ideal solution for residential buildings and smaller-scale applications.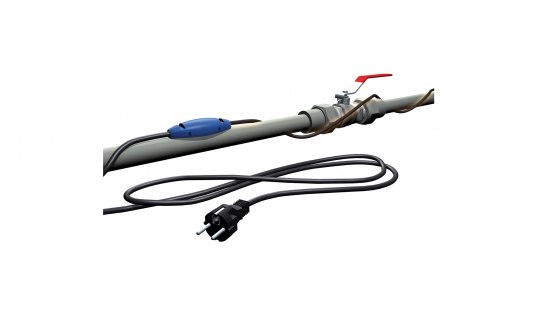 PFP heating cable with a thermostat
PFP heating cable with a thermostat
Both metal and plastic pipes can be protected against ice. Cables can be attached to metal pipes directly; plastic pipes must first be wrapped in metal or preferably self-adhesive aluminium tape or foil. After installation, the heating cable is simultaneously attached along its whole length using self-adhesive aluminium tape. The self-adhesive aluminium foil helps with the transfer of warmth from the sheathing of the cable to the protected pipe. Heated cables with an integrated thermostat and a plug are produced specially for the protection of pipes. A strap-on thermostat automatically switches the heating cable on when the pipe temperature drops under 3°C. The cable is manufactured in lengths of up to 50m. Thanks to the plug and the integrated thermostat, installation is very easy and doesn´t require any specialized work in connecting it to the electrical wiring system. The cable is thus suitable mainly for do-it-yourself installations in non-commercial buildings or residential buildings.
Type PFP
Output
Length
Cat. No.
[W]
[m]
PFP 1m/12 W
12
1
2330150
PFP 2m/25 W
25
2
2330152
PFP 3m/36 W
36
3
2330154
PFP 4m/48 W
48
4
2330156
PFP 6m/72 W
72
6
2330158
PFP 10m/136 W
136
10
2330160
PFP 14m/152 W
152
14
2330162
PFP 21m/281 W
281
21
2330164
PFP 30m/337 W
337
30
2330166
PFP 42m/490 W
490
42
2330168
PFP 50m/620 W
620
50
2330169
PFP 58m/660 W
660
58
2330170
PFP 70m/810 W
810
70
2330171
PFP 80m/1030 W
1030
80
2330172
PFP 100m/1260 W
1260
100
2330173
Type
Description
Quantity supplied
Cat. No.
Gutter clip 100
1 package = 25 pcs
1 package
2350000
Gutter clip 150
1 package = 25 pcs
1 package
2350007
Downpipe cable clip
1 package = 25 pcs
1 package
2350003
Chain
1 package = 10 m
1 package
2350004
Grufast
1 unit = 10 m / 4.5 m2
1 unit
4200013
Cable Fix
1 unit = 10 m
1 unit
4200016
Copper end piece
intended as an end piece for a flexible tube ('gooseneck'): outer diameter 11.4 mm / inner diameter 8.5mm – used to prevent sealant (anhydrite, concrete) from entering the gooseneck containing the floor probe and to improve the transfer of heat to the thermistor of the probe = more precise measurement of floor temperatures
1 unit
2350021
Plastic cable clip
1 package = 60 pcs
1 package
1200002
Plastic clip
1 package = 50 pcs
1 package
1200000
Installation tool
for the comfortable installation of plastic clips
1 unit
1200010
T-strip
1 package = 20 pcs
1 package
2350009
Kit no. 1
for PV cable repair
1 kit
5030121
Kit no. 2
for ADSV, ASL1P, PSV, CM Mat LD and LDTS cable repair
1 kit
5030122
Kit no. 3
for MADPSP, MAPSV, MST, MDT and ADPSV cable and mat repair
1 kit
5030123
Kit no. 4
for connection and termination of self-limiting cables
1 kit
5030124
Kit no. 5
for MADPSP installed under asphalt
1 kit
5030125
Kit no. 6
termination of PC/PC-S cables
1 kit
5030126
Aluminium tape
width 50 mm, length 50 m
1 pcs
2832515
SYFOK-P
1 package = 20 m
1 package
2350012
1 package = 10 m
1 package
2350013
Spacing grip
1 package = 25 pcs
1 package
2350014
C-shaped copper
1 package = 25 pcs
1 package
2350005
Similar products

Self-regulating cables

Cable circuits (resistive)

Heating cable circuits