Modular system ECOFILM
A modular radiant heating system based on 5 cm thick mineral wool modules.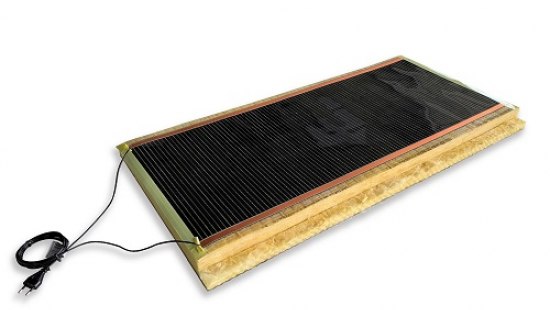 MH heating module
MH heating module
The system consists of both MH (Module Heating) heating modules fitted with ECOFILM foil and non-heating MB (Module Blank) modules. The non-heating modules are used to fill unheated parts and can be shortened and/or trimmed, unlike the heating modules. The modules are laid on the CD profiles of plasterboard and gypsum fibreboard ceilings. The supply cables of the heating modules, which are fitted with a plug, are simply connected to the backbone distribution system.
The backbone cable consists of a connecting cable on which double sockets are placed at regular distances of 1.2 m from one another for the connection of heating modules. Two ECOFILM MH heating modules can be connected to each double socket – the backbone cable for 4 modules thus has two double sockets, while there are three sockets for 6 modules, five sockets for 10 modules, etc. It is possible to have just one backbone cable in a room, but there can also be two or even more – depending on the number and distribution of the heating modules.
MH heating modules, like Ecofilm ceiling foils, must be covered by PE or PVC foil-min. thickness 0.2 mm (it functions as a second layer of electrical insulation). The user must place the foil under the plasterboard/gypsum fibre boards. Connection to the electrical wiring system may only be carried out by a qualified person. Any shortening is always done from the supply cable side-the original ending after the last double socket must be retained. The backbone cable is designed exlusively for the connection of Ecofilm MH heating modules.
Type
Packaging
Output
Voltage
Dimensions
Cat. No.
[ks]
[W]
[V]
[mm]
MH 0512/65
4
65
230V/50Hz
500 x 1200 x 50
6651102
MB 0512
5
-
-
500 x 1200 x 50
6651105
Type
Cable length
Connected modules
Number of double sockets
Cat. No.
[m]
[max pcs]
[pcs]
Backbone cable 4
4.4
4
2
6651110
Backbone cable 6
5.6
6
3
6651112
Backbone cable 10
8
10
5
6651114
Backbone cable 14
10.4
14
7
6651116
Backbone cable 18
12.8
18
9
6651118
Backbone cable 22
15.2
22
11
6651120
Backbone cable 26
17.6
26
13
6651122
Backbone cable 30
20
30
15
6651124
Similar products

ECOFILM F - foils for floor heating

ECOSUN U/U+, VT, Basic
Examples of operating costs