HES Battery Storage
The HES battery storage is a compact, grid-independent hybrid photovoltaic system solution for households and small businesses. It allows efficient use of the energy produced by photovoltaic panels and also provides energy backup for the building.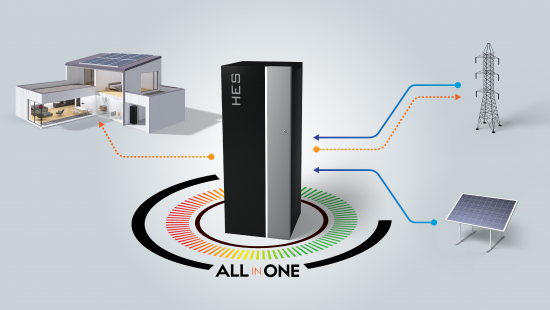 HES Battery Storage
HES Battery Storage
The HES home battery storage is a complete solution for a hybrid photovoltaic system. In addition to the battery cells themselves, the device also includes its own asymmetrical three-phase inverter with a rated output of 10 kW, a solar MPPT controller with two independent inputs for connecting up to 12 kWp of PV panels, a synchronization module for connection and parallel operation with the distribution grid, a battery charger, a battery monitoring system (BMS) and a module with a control and communication unit. The HES storage comes in capacities of 13.7 kWh, 27.4 kWh, and 41.1 kWh. All the technology is housed in a 60 x 60 x 192 cm steel cabinet.
The HES battery storage user gets access to a web interface, which can be used to monitor the current status of the system; it is possible to retrospectively evaluate the balance of consumption of the building, PV production, the amount of energy taken from the distribution grid, the history of the battery charge status, etc. A three-day insolation forecast for the PV plant is also provided. Detailed operational data for a selected period can also be downloaded and further processed individually. Within the user interface, it is also possible to easily change the operating modes (ECO, UPS, WINTER) and set the basic parameters determining the behaviour of the system (battery charge status limits for the start of grid charging, for the start of load compensation, minimum battery charge value, etc.).
The HES station also enables efficient use of the so-called spot prices of electricity. This is ensured by a unique algorithm that continuously evaluates hourly prices, PV production forecast and house consumption forecast and based on this data the model then decides when to charge the battery from the distribution grid and when the system should supply energy to the grid. Autonomously controlled operation of the storage facility can contribute significantly to further active reduction of operating costs.
Home battery system HES
Type
Battery capacity
Dimensions
Weight
Number of AcuPacks
Cat. No.
[kWh]
[mm]
[kg]
[pcs]
HES 2
13.7
600 x 600 x 1920
265
2
0020300
HES 4
27.4
600 x 600 x 1920
330
4
0020302
HES 6
41.1
600 x 600 x 1920
395
6
0020304
Similar products

SAS Peak Shaving Accumulation Station

DES Container Storage