ECOSUN IKP, IN, IN-2
Panels with a higher IP rating for heating or warming in industrial and agricultural applications. They are suitable for environments with higher levels of dust or where an EExII non-explosive version is required.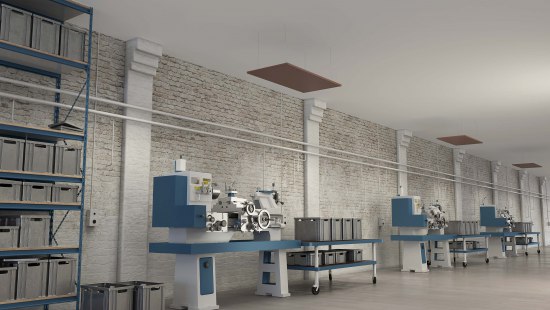 ECOSUN IKP, IN, IN-2
ECOSUN IKP, IN, IN-2
Standardly, these panels are placed directly on the ceiling with the power supply lead being connected to the installation box; however, they can also be hung (e.g. on chains). An installation frame can be supplied for an extra fee. The surface temperature of the panel is approximately 100-110°C. The installation height depends on the intended use and expected ambient temperature. The panels have a wide range of uses. They are suitable for the heating of workshops or greenhouses, for animal keeping and even for e.g. the drying of buildings.  The standard panel colour is brown for ECOSUN IN, IN-2 and white for ECOSUN IKP. Other colours are available at extra charge; they can be chosen from the sampler published on the FENIX web pages. Radiant panels IKP have a smooth washable surface and can be placed using the supports on the floor for zonal heating.
Type
Output
Voltage
Rating
Dimensions
Weight
Recommended clearance
Qty on pallet
Cat. No.
[W]
[V]
[IP]
[mm]
[kg]
[m]
[pcs]
ECOSUN 750 IKP
750
230
IP 54
1192 x 592 x 30
8.6
2.5-3.0
20
5401177
ECOSUN 700 IN
700
IP 66
1192 x 592 x 30
8.7
2.8-3.3
20
5401181
ECOSUN 700 IN-2
700
IP 65/E Ex 2
3.0-3.5
20
5401186
Ceiling fixing frame for IN, IN-2
5401190
Ceiling fixing frame for IKP
5401191
Supports for ECOSUN 750 IKP
5401193
| Type | Cat. No. |
| --- | --- |
| Cable suspension system for ECOSUN U, U+, K+, IKP, IN, GS | 5401223 |
| Ceiling fixing frame for ECOSUN /GS 300 | 5401195 |
| Ceiling fixing frame for ECOSUN GS 500 | 5401196 |
| Ceiling fixing frame for ECOSUN GS 600 | 5401197 |
| Ceiling fixing frame for ECOSUN GS 850 | 5401198 |
| Spacing set for ECOSUN GS | 5401227 |
| Supports for GS, U, U+, Basic, K+, IKP, IN | 5401193 |
Similar products

ECOSUN U/U+, VT, Basic

ECOSUN K+

ECOSUN S+
Examples of operating costs