ECOFILM F - foils for floor heating
ECOFILM heating foils are intended for use as floor heating for dry structures - under floating floors or with the use of supplementary HEAT-PAK underlays under PVC and carpets.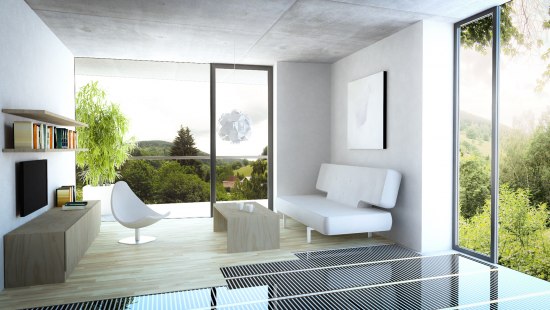 Underfloor heating film ECOFILM F
Underfloor heating film ECOFILM F
As the temperature of a floor with floor heating shouldn't exceed 27°C, floor foils are produced only with wattages that cannot cause the foil to exceed this temperature when all the installation conditions are obeyed, namely 80 W/m², 60 W/m², and for buildings which are thermally insulated very well (LEH), 40 W/m². These heating foils are offered with widths of 600 and 1000 mm. Because other layers cannot be glued directly onto the heating foil, it isn't possible to use it e.g. under floor tiles; it is, however, possible to install it under carpets and PVC with the use of HEAT-PAK underlays.
Type
Width [mm]
Output
Output
Cat. No.
Total
Active
[W/m²]
[W/m]
ECOFILM F 608/57
600
570
80
44
6652306
ECOFILM F 606/57
600
570
60
33
6652305
ECOFILM F 604/57
600
570
40
22
6652304
ECOFILM F 1008
1000
970
80
78
6652310
ECOFILM F 1006
1000
970
60
58
6652309
ECOFILM F 1004
1000
970
40
39
6652308
Description
Amount supplied
Cat. No.
Crimp connector for Ecofilm C and F
1 unit
6651001
Crimp cover for Ecofilm C
1 unit
6651002
Cold lead AV 1.5 for Ecofilm C/F brown
1 m
6651040
Cold lead AV 1.5 for Ecofilm C/F blue
1 m
6651060
Cold lead AV 2.5 for Ecofilm C/F brown
1 m
6651070
Cold lead AV 2.5 for Ecofilm C/F blue
1 m
6651080
Crimp tool
1 unit
6651003
Insulating tape for sealing cut edges of heating film 28 mm width/33 m length
1 roll
6651026
Insulating tape for sealing cut edges of heating film 38 mm width/33 m length
1 roll
6651028
P-MASTIC VM connector insulation for Ecofilm F 38 mm width (1 connector requires 0.1 m; 6 m in packing)
1 m
6651013
WAGO connector (terminal strip) for Ecofilm set. The number of wago connectors depends on the number of sets: up to 4 sets 2 pcs, 5 - 7 sets 4 pcs, 8 - 10 sets 6 pcs, 11 - 13 sets 8 pcs
1 unit
6651007
Examples of operating costs