Low-energy house in Košice -Ťahanovce
Prefabricated low-energy family house, ground floor bungalow with saddle roof. The heart of the single floor house is the living room that is, in compliance with current trend, connected with kitchen.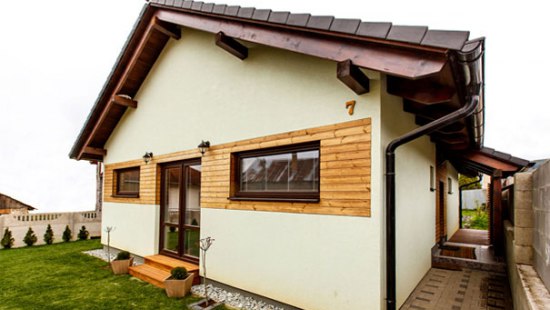 The house is fully electrified and the main sources of heating are Ecofloor electrical floor cables in concrete screed floor cover in the ground floor and Ecofilm heating foils under the laminated floor in the first floor.
Data of the building
| | |
| --- | --- |
| Habitable rooms | 5 |
| Built-up area | 109 m² |
| Living floor space | 122 m² |
| Ridge of the roof height | 6 m |
Regulation of heating is provided locally for each room by digital thermostats. The whole investment into heating was 1 550 €.
History of actual consumption of energy
Period
Consumption
CZK including VAT
NT (kWh)
VT (kWh)
03.04.2014 – 07.07.2015
393
4 738
647,05 €
 
 
 
 
Review
Actual operation of the house with a family of four, see the table above, expressly proves that the family house with electrical heating can provide the investor with, besides high comfort of living, low consumption of energy, thanks to which the house is ranked in the "A1" category.
Building of the house and construction works of the heating of Fenix Slovensko s.r.o were performed by NESBAU nízkoenergetické stavby s.r.o, www.nesbau.sk