Cable circuits (resistive)
Mainly ADPSV heating cables are used for the protection of pipes. They are connected to a wiring box and must be combined with an external thermostat. They are more suitable for larger buildings and industrial applications.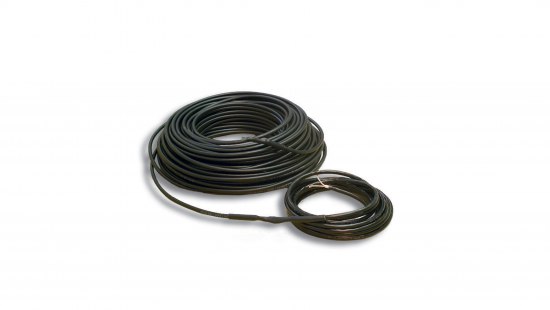 Cable circuits ADPSV
Cable circuits ADPSV
Pipes can be protected with resistance heating cables which are manufactured in lengths of up to 200m. As a thermostat isn´t part of the circuit for these cables, suitable temperature regulation is necessary, e.g. using an industrial thermostat with a separate sensor.  Because of the greater cable lengths, the necessity of combination with an external thermostat and connection to a wiring box, the cables are more suitable for industrial applications realised by a specialised company. Heating cables can be wound around the pipes or can run in parallel. As it is difficult to estimate the thread pitch during winding, we recommend that the heating cable be divided into even sections – first, attach the beginning and end of the cable, and then attach the hanging part to the middle of the pipe. By repeating and continuing this process on each side, several even hanging sections can be created which are then wound around the pipe in alternating opposite directions.
Type ADPSV 10 W/m
Output
Length
Cat. No.
[W]
[m]
ADPSV 10120
120
11.4
2256010
ADPSV 10200
200
18.9
2256015
ADPSV 10250
250
23.6
2256020
ADPSV 10320
320
31.6
2256025
ADPSV 10400
400
36.9
2256030
ADPSV 10450
450
45.9
2256035
ADPSV 10550
550
56.1
2256040
ADPSV 10600
600
63.9
2256045
ADPSV 10750
750
75.8
2256050
ADPSV 10950
950
87.0
2256055
ADPSV 101100
1100
114.5
2256060
ADPSV 101300
1300
131.3
2256065
ADPSV 101700
1700
158.5
2256070
ADPSV 102000
2000
194.5
2256075
Type
Description
Quantity supplied
Cat. No.
Gutter clip 100
1 package = 25 pcs
1 package
2350000
Gutter clip 150
1 package = 25 pcs
1 package
2350007
Downpipe cable clip
1 package = 25 pcs
1 package
2350003
Chain
1 package = 10 m
1 package
2350004
Grufast
1 unit = 10 m / 4.5 m2
1 unit
4200013
Cable Fix
1 unit = 10 m
1 unit
4200016
Copper end piece
intended as an end piece for a flexible tube ('gooseneck'): outer diameter 11.4 mm / inner diameter 8.5mm – used to prevent sealant (anhydrite, concrete) from entering the gooseneck containing the floor probe and to improve the transfer of heat to the thermistor of the probe = more precise measurement of floor temperatures
1 unit
2350021
Plastic cable clip
1 package = 600 pcs
1 package
1200003
Plastic clip
1 package = 50 pcs
1 package
1200000
Installation tool
for the comfortable installation of plastic clips
1 unit
1200010
T-strip
1 package = 20 pcs
1 package
2350009
Kit no. 1
for PV cable repair
1 kit
5030121
Kit no. 2
for ADSV, ASL1P, PSV, CM Mat LD and LDTS cable repair
1 kit
5030122
Kit no. 3
for MADPSP, MAPSV, MST, MDT and ADPSV cable and mat repair
1 kit
5030123
Kit no. 4
for connection and termination of self-limiting cables
1 kit
5030124
Kit no. 5
for MADPSP installed under asphalt
1 kit
5030125
Kit no. 6
termination of PC/PC-S cables
1 kit
5030126
Aluminium tape
width 50 mm, length 50 m
1 pcs
2832515
SYFOK-P
1 package = 20 m
1 package
2350012
1 package = 10 m
1 package
2350013
Spacing grip
1 package = 25 pcs
1 package
2350014
C-shaped copper
1 package = 25 pcs
1 package
2350005
Similar products

Self-regulating cables

PFP – heating cable with a thermostat

EB-Therm 800