Latest round of investment into ECOSUN radiant panel production completed
Over the course of July this year, significant changes once again took place in the production of ECOSUN radiant heating panels. The reconstruction of another building occurred at the Fenix Jeseník manufacturing site.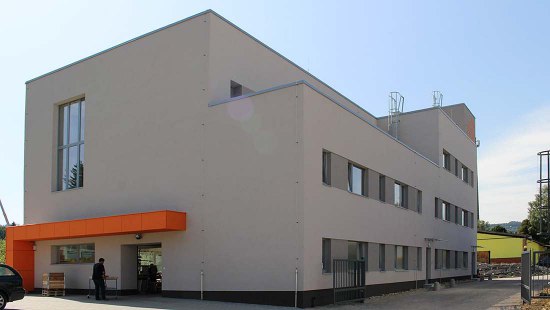 Production equipment for high-temperature radiant panels, GR and GS glass radiant panels and MR marble infrared heating panels has been moved into the building. The building will also act as a warehouse for packaging materials, and facilities have been built there for employees engaged in the manufacturing of ECOSUN radiant panels. The site also houses a new photovoltaic power plant with an output of 26 kWp and a large 600 kWh battery storage system, which will serve as a peak-power station. Completion of the peak-power station is planned for the 1st quarter of 2018.
The assembly line for the completion of ECOSUN low-temperature radiant panels has been moved into the space previously used for the manufacturing of high-temperature panels. This line has been upgraded and a PE shrink-wrap packaging line added. The shrink-wrapping of panels raises the mechanical resilience of the cardboard container, and protects it against moisture and dirt. The use of printed PE film also improves the appearance of the packaging used for our ECOSUN low-temperature panels.
The end of the line is now equipped with our fifth robot from the Japanese company NACHI. This device takes the packed ECOSUN infrared heating panels from the line and deposits them onto pallets. The technical upgrade to our assembly line has increased its capacity by a further 20%. Today, the line is able to produce 900 panels daily during two-shift operation.