Heating mats for outdoor applications
We offer special mats 300-400 W/m² for outdoor applications in which the cable isn't fixed to material, but is connected by fastening strips. After placement in sand the cable is thus better surrounded by backfill.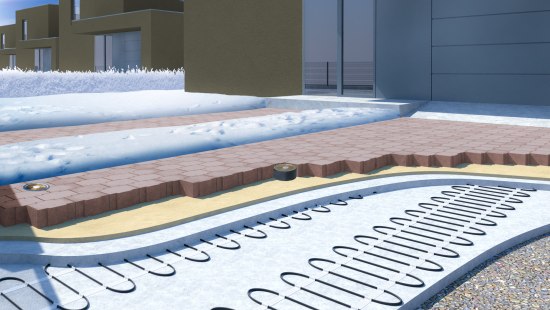 Ice and snow melting
Ice and snow melting
The heating can be provided by a heating circuit as well as a heating mat. For thoroughfares which are walked on, the heating element is placed in a sand bed or into a concrete slab, while in the case of stairs, terraces and similar areas the element is embedded into bonding cement. In thoroughfares used for driving, we unambiguously recommend that the heating element is placed into a concrete slab which will protect the heating cable from damage when the thoroughfare is used by a car.
For thoroughfares which aren't used by vehicles (pavements), the heating cable can only be placed into a sand bedFor the heating of outdoor surfaces a wattage of 300-400 W/m² is installed. Such a high output is necessary for the system to function correctly even at temperatures far below freezing point. Also, correct regulation is very important – as it will bring the heating system into operation as soon as there is a danger of ice formation. This means a regulation system which registers not only the temperature but also the presence of moisture in the area monitored. If the system is controlled manually by the user and is brought into operation at a time when the surface concerned has already been covered with a layer of snow, this snow can take more than 12 hours to melt (depending on the height of the layer of snow). It is necessary to realize that the heating cable is placed in the ground, which has a great ability to absorb heat, and also that a large amount of energy is needed for the transformation of snow into water – so called latent heat. The installation of supplementary thermal insulation into the base composition is inefficient with a few exceptions. 
For these applications we offer robust ADPSV, MST and MDT cable mats with protective sheathing. MDT mats are also suitable for installation in asphalt.
Examples of operating costs