Heating cable circuits
Resistance heating cables with sheathing which is resistant to UV radiation, designed for the protection of gutters, downpipes, roof valleys and roofs against snow and ice.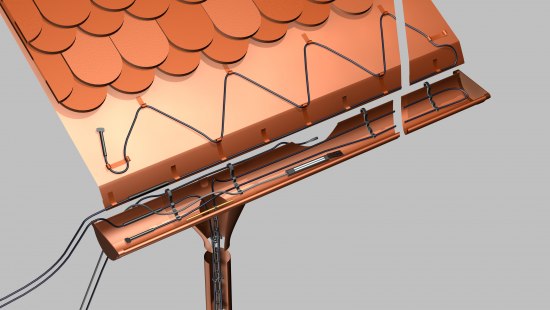 De-icing gutters and oves troughs
De-icing gutters and oves troughs
An ideal protective measure is to provide the heating of eaves troughs and the heating of downpipes with the help of electric heating cables. For typical eaves troughs and downpipes (up to a diameter of 150 mm), a heating wattage of 30-40 W/m is installed; at higher altitudes approaching 1000 m above sea level 60 W/m and more is used (after the assessment of local conditions). It is more advantageous to use a cable with a lower wattage and install it into the eaves trough or downpipe twice or even three times (a larger surface is thus covered) rather than use a higher output cable and install only one core. Plastic grips or steel cables with grips are used for the attachment of the cable in eaves troughs and downpipes. It is also possible to protect roofs – roof valleys, edges of roofs etc. Here, the cable is usually installed in a so-called "saw-tooth configuration" with such a spacing that the surface wattage is ca. 200 W/m², and at least 250 W/m² at altitudes approaching 1000 m. The attachment of the cable on roofs is relatively problematic. Generally, it isn't possible to make openings, solder or weld the coverings as doing this might damage the insulation boards under the covering. This problem is thus solved individually for each application – e.g. with the help of steel wires.
As in the case with the heating of open spaces, a suitable regulation system which not only monitors the temperature but also the presence of humidity is extremely important for roof applications. If the heating cable is controlled manually by the user and is brought into operation at a time when a thick layer of ice is already present, the cable will melt a cavity (tunnel) in the ice and thus create an air shell which behaves in the same way as thermal insulation. Even though the cable is in operation, the ice doesn't melt and the application is basically non-functional.
We offer ADSV+ and ADPSV heating cables with protective braiding and UV protection for these applications.
Type ADSV+ 20 W/m
Output
Length
Cat. No.
[W]
[m]
ADSV+ 20160
160
8.3
2253200
ADSV+ 20270
270
14.0
2253205
ADSV+ 20340
340
17.2
2253210
ADSV+ 20450
450
22.5
2253215
ADSV+ 20540
540
27.4
2253220
ADSV+ 20640
640
32.1
2253225
ADSV+ 20720
720
35.8
2253230
ADSV+ 20870
870
43.8
2253235
ADSV+ 201070
1070
53.5
2253240
ADSV+ 201290
1290
64.4
2253245
ADSV+ 201580
1580
79.0
2253250
ADSV+ 201850
1850
92.4
2253255
ADSV+ 202300
2300
117.3
2253260
ADSV+ 202750
2750
141.4
2253265
Type ADPSV 20 W/m
Output
Length
Cat. No.
[W]
[m]
ADPSV 20160
160
8.3
2252800
ADPSV 20270
270
14.0
2252805
ADPSV 20340
340
17.2
2252810
ADPSV 20450
450
22.5
2252815
ADPSV 20540
540
27.4
2252820
ADPSV 20640
640
32.1
2252825
ADPSV 20780
780
39.3
2252830
ADPSV 20870
870
43.8
2252835
ADPSV 201070
1070
53.5
2252840
ADPSV 201290
1290
64.4
2252845
ADPSV 201580
1580
79.0
2252850
ADPSV 201850
1850
92.4
2252855
ADPSV 202300
2300
117.3
2252865
ADPSV 202750
2750
141.4
2252870
Type
Description
Quantity supplied
Cat. No.
Gutter clip 100
1 package = 25 pcs
1 package
2350000
Gutter clip 150
1 package = 25 pcs
1 package
2350007
Downpipe cable clip
1 package = 25 pcs
1 package
2350003
Chain
1 package = 10 m
1 package
2350004
Grufast
1 unit = 10 m / 4.5 m2
1 unit
4200013
Cable Fix
1 unit = 10 m
1 unit
4200016
Copper end piece
intended as an end piece for a flexible tube ('gooseneck'): outer diameter 11.4 mm / inner diameter 8.5mm – used to prevent sealant (anhydrite, concrete) from entering the gooseneck containing the floor probe and to improve the transfer of heat to the thermistor of the probe = more precise measurement of floor temperatures
1 unit
2350021
Plastic cable clip
1 package = 600 pcs
1 package
1200003
Plastic clip
1 package = 50 pcs
1 package
1200000
Installation tool
for the comfortable installation of plastic clips
1 unit
1200010
T-strip
1 package = 20 pcs
1 package
2350009
Kit no. 1
for PV cable repair
1 kit
5030121
Kit no. 2
for ADSV, ASL1P, PSV, CM Mat LD and LDTS cable repair
1 kit
5030122
Kit no. 3
for MADPSP, MAPSV, MST, MDT and ADPSV cable and mat repair
1 kit
5030123
Kit no. 4
for connection and termination of self-limiting cables
1 kit
5030124
Kit no. 5
for MADPSP installed under asphalt
1 kit
5030125
Kit no. 6
termination of PC/PC-S cables
1 kit
5030126
Aluminium tape
width 50 mm, length 50 m
1 pcs
2832515
SYFOK-P
1 package = 20 m
1 package
2350012
1 package = 10 m
1 package
2350013
Spacing grip
1 package = 25 pcs
1 package
2350014
C-shaped copper
1 package = 25 pcs
1 package
2350005
Examples of operating costs