ETF-744/99 temperature sensor
Wall sensor ETF-744/99 is intended for sensing of air temperature for regulators ETO2-4550 and ETR2-1550.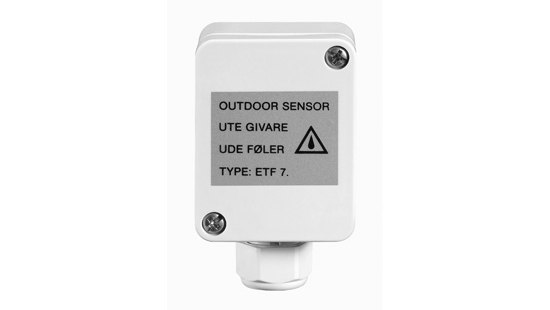 Sensor ETF-744/99
Sensor ETF-744/99
The sensor is intended directly for outdoor environment, with installation into places where free circulation of air is ensured. It is usually placed onto façade in the "coldest" point of application (northern side). When placing the sensor, pay attention so that sensing of air temperature is not influenced by other sources (solar radiation, ventilation or air vents, etc.).
The sensor is installed vertically, cable gland down. It is connected to the regulator by a two-core cable of the cross-section of 2x 1,5 mm², length of up to 50 m (in case of concurrence with power lines, shaded conductor must be used).
Regulator ETF-744/99
| Sensor: | Use: | IP coverage of the sensor: | Temperature resistance: | Sheathing: | Cable length: |
| --- | --- | --- | --- | --- | --- |
| ETF-744/99 | Water, snow and ice sensor | IP 54 | -40 … 120 °C | - | - |