TOP Women CEO Magazine Award
On Wednesday, September 21st, 2022, in the wonderful surroundings of the dome of the National Museum of Prague, the winners of the 1st edition of the TOP Women CEO magazine award from Media Group A 11 were announced.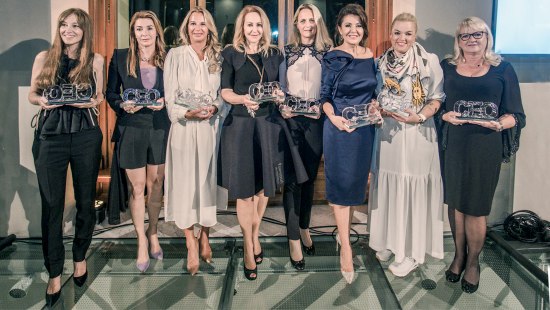 Awards were received by women at the head of companies in seven sector categories, at the end the Absolute winner was announced. This year, Ivana Tykač, the director and founder of the generally beneficial society Women for Women, became that person.
The winner in the "Finance" category was Jana Hanušová, director of ESSOX. In the "Innovation and IT" category, the award was received by Hana Součková, CEO of SAP Czech Republic. First place in the "Law" category was won by Vladimíra Glatzová, Managing Partner of the Glatzová & Co. law firm.
The award went to Kateřina Jezerská, director and managing director of FENIX Trading, for the field of "Industry and production".
In the "Reality and development" category, Gabriele Hasková, CEO of the real estate company Real-Treuhand Reality, takes first place. The award in the category "Services and trade" was received by Ivana Šachová, owner of the company Silex SCANquilt. The winner of the "Health and beauty" category was Edita Szabóová, general manager of the Czech and Slovak branches of the cosmetic brand Mary Kay.
The moderator of the gala evening was the Czech economist Lukáš Kovanda. The partners of the gala evening were Canneff and premium-home.cz. The author of the award is designer Jakub Pollág.
We value the award very much and for us it is a commitment to the future.