New V24-WiFi central unit
Our range of wireless products has recently been extended to include the V24-WiFi central unit. The new unit enables easy connection to the home WiFi network, thus giving the user the option of remotely controlling their heating system using appliances which are connected to the Internet.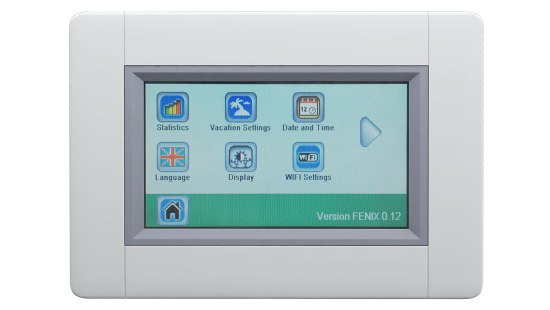 The unit is fitted with a 4.3" colour display which clearly shows the status of the heating system and the setting of user parameters. The intuitive controls, menu and software of previous models have remained more or less unchanged, making it easy to transfer from one's current unit to the new version. Moreover, a slot for Micro SD memory cards has been added, enabling users to carry out software upgrades to the unit in the comfort of their own home. If a new software version is released, it is not necessary to send the unit somewhere or call a technician.
Remote control is enabled after the connection of the V24-WiFi unit to the home WiFi network and registration at http://v24.fenixgroup.eu/mobile/dist, or alternatively via applications for mobile phones with Android and iOS systems. These applications can be downloaded for free at the Google Play App Store. The web interface or application enables the user to monitor and change the requirements for the heating system, enabling it to operate economically even when there is no one at home, e.g. in the case of a later return from one's holiday. Also, the processing of statistics regarding total consumption as well as the consumption of individual zones is performed in greater detail in the application or web interface and so it is possible to check the estimated cost of heating the house.
It is not necessary to use a GSM module to operate one's heating system by remote control with V24-WiFi units. Our current V24 unit therefore remains in our product range for clients living in buildings with no available Internet connection.