New investments in manufacturing automation and robotisation
Industry 4.0 is in full swing at Fenix. This year we invested in the automation and robotisation of ECOSUN infrared heating panel production, and we have also started working on the automation of ECOFLOOR heating cable and mat production.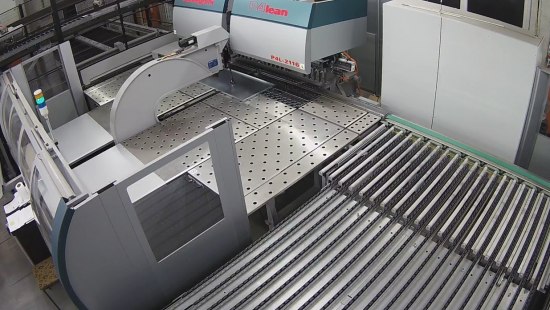 Industry 4.0, i.e. the 4th industrial revolution? At Fenix we know what this means!
The lack of free labour on the labour market, the steady rise in the prices of raw materials as well as price pressure from competitors from the East makes us constantly look for ways to speed up, streamline and lower the cost of manufacturing. We are therefore continuously working to replace strenuous and repetitive human work with automatic machines and robots, and this year is no exception, with a lot of investment being allocated to such development. We have acquired a new fully automatic bending system from the renowned Italian manufacturer Salvagnini. This machine replaced three CNC press brakes. 
The bending system is supplemented by a handling robot which places semi-finished products on a pallet for storage or passes them on to a welding station as required. Our new Maqfort automatic welding machine is served by another new helper from the Japanese company Nachi. This includes checking the quality of the weld using a laser head. These new devices have not only sped up production, they have also made the manufacturing of metal components for ECOSUN radiant panels much more accurate. These components are now produced on a fully automated and robotized production line.
We are also automating the production of ECOFLOOR heating cables and mats. September saw the launch of an automatic line for the manufacturing of heating cables. Working in automatic mode, the line unwinds cables from their spools, strips off their jackets and bundles them using binding strips.  Setting and record-keeping takes place with the aid of bar codes. The production line includes a de-insulation and cutting device made by the Swiss company Schleuniger and a cable surface scanner from the proven British manufacturer Beta Lasermike. Line productivity is three times higher than before, when we used semi-automatic ringing machines. 
Pavel Kudelka
In Jeseníku 30.11.2018