Fenix at the international exhibition Mostra Convegno Expocomfort 2016
For the first time, Fenix Trading s.r.o. participated in the international exhibition Mostra Convegno Expocomfort 2016 in Milan, which took place from 14–18. 3. 2016.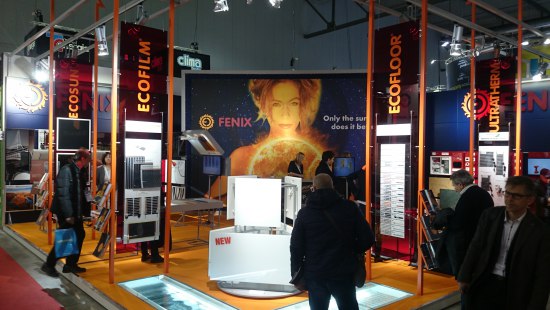 The trade fair is traditionally dedicated to building services engineering and focused this year on energy efficiency and renewable resources. Over 2100 exhibitors (out of which 40 % were from outside Italy) and more than 155 000 visitors took part in the exhibition.
At the fair, Fenix presented its new concept for houses with nearly zero energy consumption – EPBD 2020 nZEB – The future is electric!  With regard to the trend towards lowering the heat losses of buildings and achieving lower energy consumption, operating costs have ceased to be critical factors. The total height of the initial investment, maintenance and service costs, service-free operation, lifespan, system reliability and comfort level have become more important. Our electric radiant systems offer all of these things. By combining them with house batteries for the storage of excess energy, e.g. from a photovoltaic power station or in cooperation with the "smart grid" (which enables batteries to be charged from the electricity network during defined periods), you will obtain not only an ideal solution for your home but also a higher level of energy independence. More information about the new concept by FENIX can be found here.
At the exhibition, FENIX also presented its new ECOSUN GS radiant panels. These are glass radiant panels which combine the elegant design of frameless GR panels and the versatility of ECOSUN G panels.
We would like to thank everybody for visiting our stand and look forward to seeing you at the ISH Frankfurt 2017 exhibition, or at a trade fair in the Czech Republic. You can also find more information about the Mostra Convegno Expocomfort 2016 exhibition at the TZB info portal.