Thermostat T-Sense (Bluetooth)
Thermostat with floor probe, programmable via Bluetooth.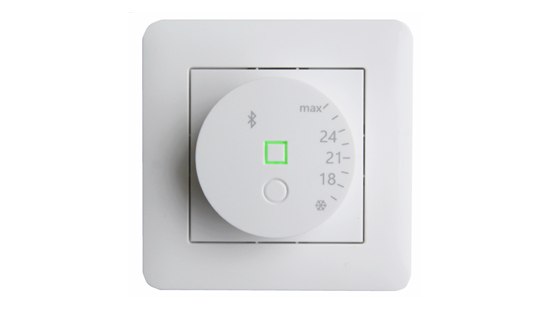 Thermostat T-Sense
Thermostat T-Sense
Mobile application ecoControl (available for Android and iOs) can be connected to thermostat T-Sense using Bluetooth. Thermostat does not need this application for standard operation, it is intended for modification of parameters pre-set at the production (temperature value ECO, lighting intensity LED, calibration of temperature sensors) and/or setting and starting of the thermostat in advanced mode (weekly program). Application ecoControl does not require user account, Bluetooth allows connection with thermostat only in immediate vicinity (range of c. 3 m). This product does not support remote control (Internet, mobile networks). Thermostat can be started and operated even entirely without the ecoControl application, in such case, however, solely in the BASIC mode and with values pre-set at the production.
BASIC MODE
The thermostat functions as a single analogue thermostat, with possible control of attenuation on pilot conductor. After initial start-up the thermostat checks whether floor probe is connected and automatically selects the Space or Floor mode. Comfort temperature of air or floor (according to selected mode) is subsequently set by rotary control. If pilot conductor is connected, it can be switched between comfort and attenuation (ECO) temperatures by the signal. Attenuation temperature is set at production at 19 °C, it cannot be changed without the mobile application. Touch button ECO on the thermostat rotary control is not active in basic mode. Using the ecoControl application the Floor + Space modes can be started and floor temperature limits can be set for basic mode. In this setting, comfort air temperature is controlled by rotary control, limit temperature of floor is fixed.
ADVANCED MODE
Weekly program, when thermostat automatically switches between the comfort and attenuation temperatures, can be created and uploaded into the thermostat using the ecoControl application. Change of temperature can be programmed every hour on the hour. This mode is called "AUTO" and in this mode the ECO touch button on the thermostat control is activated. The button allows the user to switch between comfort and attenuation temperatures outside set program, manual intervention is annulled at the next program change. Date and time required for AUTO mode are updated in the thermostat automatically with each connecting of mobile application.
Note: package (1 carton) = 50 pcs.
T-Sense
| | |
| --- | --- |
| Rating: | IP 21 |
| Switched current: | 16 A |
| Temperature range - room: | +5 … 35 °C |
| Temperature range - floor: | +5 … 50 °C |
| Temperature attenuation: | Yes |
| Heating indicator light: | Yes |
| Hysteresis: | - |
| Switch: | Yes |
Similar products

Fenix therm 105

Eberle RTR-E 6124