Heating mats for semi-storage heating
Heating mats in a layer of thermally conductive material (anhydrite, concrete…). They are typically easy and fast to install, and they are particularly suitable for use as main heating systems.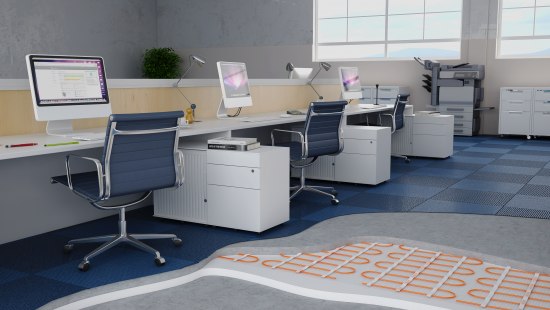 Heating mats for semi-storage heating
Heating mats for semi-storage heating
With regards to functionality, there is no difference between a circuit and a mat – a heating mat is basically a heating cable attached to a fabric base. These two products differ only in the way they are laid. Mats have the benefit of being easier to lay, and with them even spacing of wattage is guaranteed. One of the advantages of the semi-storage system is the lower acquisition costs of heating mats – as the cable is placed in a sufficiently thick layer which will ensure an even distribution of temperatures, cables with higher linear wattage can be used (approx. 15 W/m).
The disadvantage is the more complicated installation method – mainly in situations when the heating cable is supposed to be inside the load-bearing slab. This slab must be monolithic; if a layer of only 2cm were poured in the case of e.g. concrete, a heating cable was installed after the initial layer had set and subsequently a second layer with a thickness of 4cm was poured, there would be a very real danger that these two layers would separate after the commissioning of the heating cable and the floor would "rise". In the case of semi-storage and storage systems, it is also necessary to strictly follow the gradual start-up procedure for raising the floor temperature – the so-called first heating mode.
For semi-storage heating, we offer LPSV heating mats with a wattage of 100W/m².
Type LPSV 80 W/m²
Output
Area
Width
Length
Cat. No.
[W]
[m²]
[m]
[m]
LPSV 80/2
160
2.0
0.5
4.0
5520310
LPSV 80/3
240
3.0
0.5
6.0
5520312
LPSV 80/4
320
4.0
0.5
8.0
5520314
LPSV 80/5
400
5.0
0.5
10.0
5520316
LPSV 80/6
480
6.0
0.5
12.0
5520318
LPSV 80/7
560
7.0
0.5
14.0
5520320
LPSV 80/8
640
8.0
0.5
16.0
5520322
LPSV 80/9
720
9.0
0.5
18.0
5520324
LPSV 80/10
800
10.0
0.5
20.0
5520326
LPSV 80/12
960
12.0
0.5
24.0
5520328
LPSV 80/13
1040
13.0
0.5
26.0
5520330
LPSV 80/15
1200
15.0
0.5
30.0
5520332
LPSV 80/18
1440
18.0
0.5
36.0
5520334
LPSV 80/21
1680
21.0
0.5
42.0
5520336
LPSV 80/28
2240
28.0
0.5
56.0
5520338
Type
Description
Quantity supplied
Cat. No.
Gutter clip 100
1 package = 25 pcs
1 package
2350000
Gutter clip 150
1 package = 25 pcs
1 package
2350007
Downpipe cable clip
1 package = 25 pcs
1 package
2350003
Chain
1 package = 10 m
1 package
2350004
Grufast
1 unit = 10 m / 4.5 m2
1 unit
4200013
Cable Fix
1 unit = 10 m
1 unit
4200016
Copper end piece
intended as an end piece for a flexible tube ('gooseneck'): outer diameter 11.4 mm / inner diameter 8.5mm – used to prevent sealant (anhydrite, concrete) from entering the gooseneck containing the floor probe and to improve the transfer of heat to the thermistor of the probe = more precise measurement of floor temperatures
1 unit
2350021
Plastic cable clip
1 package = 600 pcs
1 package
1200003
Plastic clip
1 package = 50 pcs
1 package
1200000
Installation tool
for the comfortable installation of plastic clips
1 unit
1200010
T-strip
1 package = 20 pcs
1 package
2350009
Kit no. 1
for PV cable repair
1 kit
5030121
Kit no. 2
for ADSV, ASL1P, PSV, CM Mat LD and LDTS cable repair
1 kit
5030122
Kit no. 3
for MADPSP, MAPSV, MST, MDT and ADPSV cable and mat repair
1 kit
5030123
Kit no. 4
for connection and termination of self-limiting cables
1 kit
5030124
Kit no. 5
for MADPSP installed under asphalt
1 kit
5030125
Kit no. 6
termination of PC/PC-S cables
1 kit
5030126
Aluminium tape
width 50 mm, length 50 m
1 pcs
2832515
SYFOK-P
1 package = 20 m
1 package
2350012
1 package = 10 m
1 package
2350013
Spacing grip
1 package = 25 pcs
1 package
2350014
C-shaped copper
1 package = 25 pcs
1 package
2350005
Examples of operating costs